Meeting Facilities
Our meeting facilities enable you to conduct any sensitive VAT or tax enquiry away from your office premises with your paper documents at hand along with instantly viewable PDF versions. This speeds up the process and instils confidence in the investigator, keeping any professional accountancy fees to a minimum.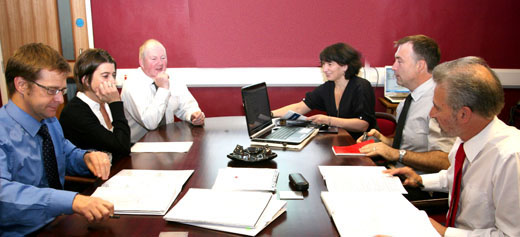 Rocolo Meeting Facilities
There may be times when you need to have full access to your archived documents. A tax investigation or an internal audit may involve multiple requests for documents over a wide range of dates. Instead of moving large numbers of boxes to your premises, with all the attending security and convenience issues, why not make use of our meeting facilities.
We provide comfortable, modern meeting facilities at our document storage premises with secure access to your archived documents. Our relaxed and private room comfortably accommodates up to twelve people and is situated away from our internal offices, giving you the space you need for your conference.
Internet access is available for easy communication with your own offices.
The room features an interactive white board, which is ideal for all attendees to view scanned documents. Should you require access to your hard copy documents, we offer an instant retrieval service.
Tea and coffee making facilities are provided for your convenience and we can cater for working lunches on request.