Secure Shredding
It is a legal obligation to store financial documents for seven years, at which point you may decide to dispose of them. Rocolo offers an environmental solution to their disposal with our onsite secure shredding service. Your shredded document paper is then recycled and we sponsor Tree Appeal to plant a tree on your behalf. We provide you with a document disposal certificate that states that your documents have been securely shredded along with a recycled certificate in recognition of your environmental commitment.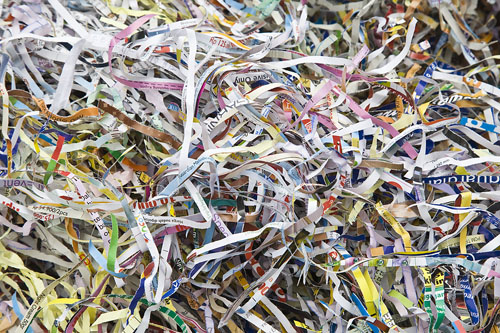 Rocolo Secure Shredding
When the time comes to dispose of your old documents it is essential to do so in a way that complies with the data protection laws. Rocolo can do this for you with our secure and confidential document shredding service.
Our industrial-scale shredding equipment allows us to efficiently dispose of bulk quantities of information.

In addition to the usual paper and card, our shredding equipment will handle CDs. DVDs and credit cards.



Paper Recycling
All paper is recycled in line with our environmental policy.

We are looking to introduce the following services:
· Secure data wiping of computer hard drives that have been removed and supplied to Rocolo. This can include reformatting for reuse.
· Data wiping of computer hard drives at your premises
· Secure data wiping, destruction and recycling of computer hard drives and full IT systems in compliance with the WEEE regulations